20 local people have volunteered to learn a dance routine from professionals and they will be performing, along with our guest singer to entertain you.
Whilst having fun we also address the serious issue of Modern Slavery and raise money for a fantastic charity, 'Hope for Justice'; who advocate, rescue and restore people's lives. We hope to bring you a fantastic community event filled with sparkle and fun with a very worthwhile cause.
Fran & Martin
We are both members of St. Joseph's church which is where we were married almost 35 years ago! We now have three children and have just become Grandparents for the first time.
We were invited to join the Strictly challenge by friends, Bertie & Gillian, who were already involved. The opportunity to support a worthwhile Charity and maybe learn a few dance moves sounded like fun and so we said yes.
About 8 years ago we both went to dance classes for a short while where we learnt a few steps but never really got to the stage of putting a dance together.
Outside of work (and Strictly) we both like playing golf and spending time with our families and friends. Martin also enjoys cycling whilst Fran attends French conversation classes.
Annice and Ryan 
Annice & Ryan first met and became a Strictly couple in January 2020. Both familiar with totally different styles of dance (Ryan achieving a BA Honours in Performing Arts and Annice a qualified NATD Dance Teacher in Freestyle/Modern) they had never experienced Ballroom, so this was a totally new challenge.
Ryan is a Care Home Manager and Annice is a Teaching Assistant at Windhill21. They plan to perform their routine to the residents & children, which they're bound to love!
They agreed to do the show because Ryan didn't want to get fired by Clive (his boss!), and Annice loved the idea of raising money for charity while dancing!
They've enjoyed learning their Cha Cha Cha and formed a good partnership (in Strictly terms a 'friend for life') with lots of laughing.
They love the theatre and dislike tomatoes – so please don't throw any! 😊
Bernie & Anita
Hola! We are team 'Bernita'!  Bernie is Clive's wife who has supported her husband since Strictly Stortford's conception.  Anita is a newcomer; having seen an advert in January for dancers, she jumped at the chance to take part.  Although we didn't know each other previously, we are thrilled to be partners – we have even had cheeky rumba practices at Host salsa nights!  Anita has more dance experience than Bernie who, until the start of training, hadn't had lessons before, but we are both dedicated to practicing and improving whilst having fun.  We are loving this amazing opportunity of being coached by professionals and transforming into Strictly dancers ready for the big day.  This experience has refuelled Anita's love of dance and it has taught Bernie to love rumba.  We are already badgering Clive to put on a dance show for 2023!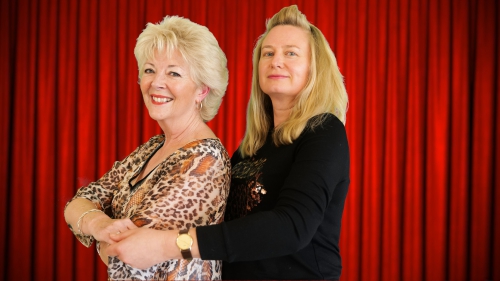 Heather & David
We are David and Heather Clapham.  We have been married for 46 years and have lived in Stortford for the last 24 of them. We have two adult children and two lively granddaughters.  David is a retired industrial pharmacist and Heather has recently retired from managing the Bishop's Stortford Money Advice Service.  We both enjoy dancing so when the opportunity arose to combine that with raising money for such a good cause it seemed too good to miss 😊.
We started dancing socially quite a few years ago as something we could both enjoy together once our daughter left home for university.  Dancing socially and dancing in this competition are however very different experiences!
As well as dancing we really enjoy following motor racing (Formula 1), singing (with the Bishops Stortford Gospel Choir), keeping fit and being active members of the Community Church.
Gillian & Bertie
Gillian and Bertie have always enjoyed dancing as a couple, and with opportunities few and far between since moving to the UK, when Bertie overheard Clive talking about doing a Strictly Stortford fundraiser in support of the charity Hope for Justice,  he signed them up immediately-then went home and told Gillian! Their love for dancing has been reignited and they have thoroughly enjoyed the camaraderie and encouragement of the other dancers. It's been challenging because they have not danced at this level and really appreciate the generosity of Stephen, Hazel and Cheryl from Evans Dance School and the dedication of Clive and Bernie, the organisers for this fantastic fundraiser. They're hoping that this will be the beginning of a lot more dancing in their lives too!
Sarah & Liz
Liz has done a little Latin, Ceroc, Salsa and Argentine Tango and so when the opportunity came to dance for Strictly Stortford, and for such a good cause, she jumped at the opportunity to build on her dance knowledge and skills. Liz felt that dancing as a man she gets to wear a cool hat while Sarah gets to wear as much bling as it is possible. Win win!
Sarah has always loved to watch the beauty and freedom of every dance style. Over the years, she has done a bit of Ballet and Ballroom, so when the opportunity arose to do Strictly Stortford, she jumped in head first! Sarah feels that they are very lucky to have been given the opportunity to learn something new and to be taught by amazing people and very importantly, to raise money for such a good cause.
Christine & George
It all began with Kate Bush dancing to her song Wuthering Heights and George loved it! So when Clive approached him to do Strictly he agreed, wanting to embrace something he'd never done before, but always enjoyed watching. So out of his comfort zone he has joined Christine for a brilliant cause.
Christine previously learned a little Ballroom/Latin and Ceroc dances. After some health issues, Christine was looking for some dance lessons and maybe a charity to volunteer for. And Strictly Stortford came along! What a great adventure! George is an inspiration as he has been learning to dance from scratch with the amazing help of the dance academy.
We just want to give a big shout out to the Evans Dance Academy and the tutors who have been so encouraging on our dance journey – a massive thank you.
Hope you enjoy it!!
Nyree & Sebastian
Hi, we are Nyree and Sebastian, mum and son and got involved in Strictly Stortford over 2 years ago whilst learning to dance with the Evans school of dance. It sounded like a good idea at the time, dancing and raising money for Hope for Justice. But we're now thinking that maybe we should have just gone around with a tin!! It's enjoyable but quite hard work!
We love watching Strictly and wanted to learn to dance. Nyree has dabbled in ballroom and Latin over the years, and Sebastian is a complete novice. Nyree loves skiing, singing in her local choir and renovating houses and Sebastian loves his cat KK, reading books and playing on his switch. We hope you enjoy it!