Become a SMArt Supporter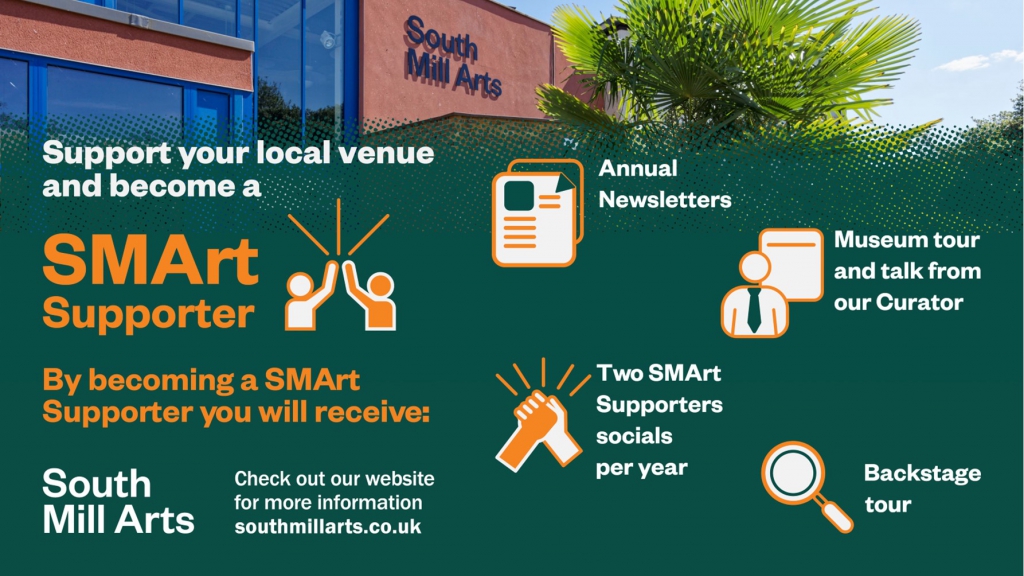 South Mill Arts is a local community arts and heritage venue in Bishop's Stortford and is home to the Bishop's Stortford Museum.  South Mill Arts is a charity and all the income we receive goes back into the building and the work we make for the local community.
Our links with music and performance run all the way back to the early 1960s when "The Rhodes Centre", as it was then known, hosted up and coming artists who were to go on to become some of the most famous performers in the world (Bowie, The Who, Moody Blues, Fleetwood Mac and Elton John to name but a few).
Since that time we have been constantly growing, adjusting to the changing needs of our local community as Bishop's Stortford has evolved from a quiet market town into the busy and dynamic town that we see around us today.  Through all the years of triumphs and dramas, good times and challenges our greatest strength is, and always has been, the fantastic link that we have with our local community.
Everything we do is reliant on the help of our supporters who enable us to keep bringing you the best in theatre, community events and local history.  Become a SMArt Supporter and be a part of our future; you'll be among the first to hear about new events and will even get exclusive benefits. Alternatively, donate what you can – every penny counts.
By becoming a SMArt Supporter you will receive:
Annual Newsletter
Hear from our Artistic Director and Operations Director on what you can expect from the year ahead at South Mill Arts
Museum tour and talk from Curator
Enjoy a tour of our museum and the chance to meet and ask any questions you may have to our Curator.
Backstage tour
Ever wondered what happens behind the scenes.  Take a tour with our technical team and find out what happens backstage.
Two SMArt Supporters socials per year
You will receive an invitation to two supporters socials throughout the year.
Pricing:
Single Supporter: £50
Joint Supporters: £75
You can also donate to South Mill Arts: