Our Box Office opening hours are Monday – Saturday 12pm – 4pm, and one hour before a performance.
You can contact our Box Office at enquiries@southmillarts.co.uk
Sign up here for the East Herts Lottery and be in with a chance to win!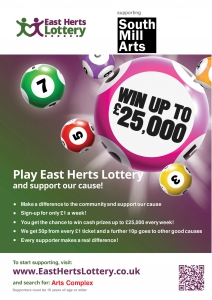 WE NEED YOUR HELP 
The CV-19 pandemic has put the whole of the UK's arts and heritage sector under huge financial pressures.  Unfortunately we are not exempt from this and are having to try and steer a safe course through some very troubled financial waters. Please help us make sure that when this is all over we are still here, bringing you the best in community theatre, art and local history.
There are three ways you can help us; you can make an on-line donation, you can sign up to the East Herts Community Lottery (we get 60% of your ticket price and you get the chance to win up to £25,000) and finally, you can make sure that when we re-open you come back to enjoy our museum displays, great shows and see all of your friends in our regular classes and groups.
You can make your on-line donation by clicking on the button below
Thank you, your support is very much appreciated.