Crimes on Centre Court Interview – Featuring the cast: Kirsty Cox , Ben Thornton, Katriona Brown and Emile Clark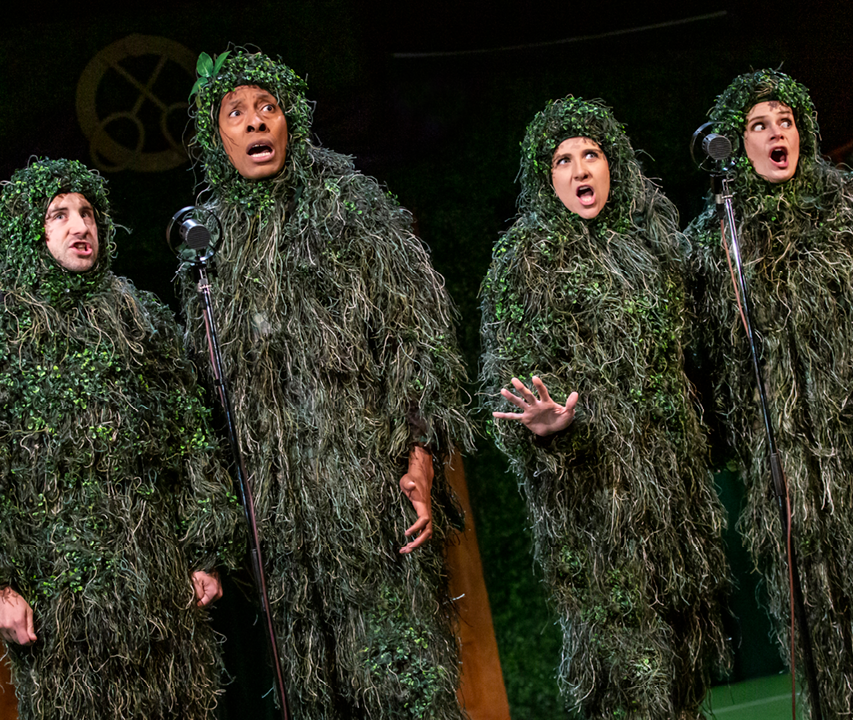 As the hilarious Crimes on Centre Court's prepares to come to town we spoke with the hardworking cast of four to find out a little more about the show…
Have you performed with New Old Friends before?
Kirsty – Yes several times!  I toured in the first production of Crimes on the Nile and then in Crimes in Egypt, and Crimes, Camera, Action. Twice!  I also performed in A Christmas Getaway in Bath and will be in the cast this Christmas at Lichfield. Oh, and I toured in the original production of Crimes on Centre Court too.
Emile – My first was a lockdown outdoor fireside version of Crimes Against Christmas, but like Kirsty, I was also in A Christmas Getaway and Crimes on Centre Court…
Ben – Me too, I toured Crimes In Egypt in 2021 and then Crimes On Centre Court last year. My wife, Katie Haygarth, also has performed with the company on two separate occasions to me! It's a bit of a family affair…
Katriona – This is my first time!!
Ben – Ha! Welcome to the madhouse!  Good luck…
Can you tell us a little but about the show in your own words?
Ben  – It's a funny, farcical, silly murder mystery set at Wimbledon – sorry – Whombledun. Think Agatha Christie meets 39 Steps meets Play That Goes Wrong. With tennis and songs thrown in too…
Emile  – A comedy tennis whodunnit. It's a silly son of a gun of a show!
Kirsty – It's a really is a fun fast paced spoof. Four actors, us, play all the characters…
Katriona – It's totally joyous. Lots of silly fun bursting with comedy but with real heart.
Kirsty – There's a lot of word play and quick costume changes too along with some singing hedges! And there is also a murder mystery to solve at the centre of it.
Who do you play in the show?
Katriona – I play Penny Pink, a private detective who is new to the game but has the determination and brains to solve the case.
Ben  – I play Perry Pink who is a rather stupid but loveable detective. Owen Owens who is a Welsh (my amazing accent depending…) tennis umpire. Lord Knows who is the chairman of the Whombledon tennis club (and dies very early on, spoiler alert!) and Ivan Borodl – a rough, tough Serbian tennis coach.
Kirsty – I play three different tennis players – the Serbian, Notta Damclu, the Swedish world number one, Ingrid Ergatson, and American doubles player, Jean Samson. I also play Wendy Weaver, a Whombledun official who tries to hold the club together once the murders start happening, as well as various police officers and of course a hedge…
Emile – And I play Hugh Knows, a work shy murder mystery fan who inherits a well renowned tennis tournament. Digby, who is giving his tennis career, one last push, Jon an American tennis celebrity who plays doubles with his wife but has a very short fuse and Helmut, a tennis player from Austria and a muscly one at that. But most importantly I also play a choral hedge dedicated to giving the audience, the story of Crimes on Centre Court via a barbershop quartet…
We're intrigued about this hedge!  If you could describe Crimes on Centre Court in three words what would they be?
Katriona – Joyous, dramatic and bloody.
Kirsty – Funny, fast and pun-ful!
Ben – Very very funny.
Emile – silly, tennis, hedge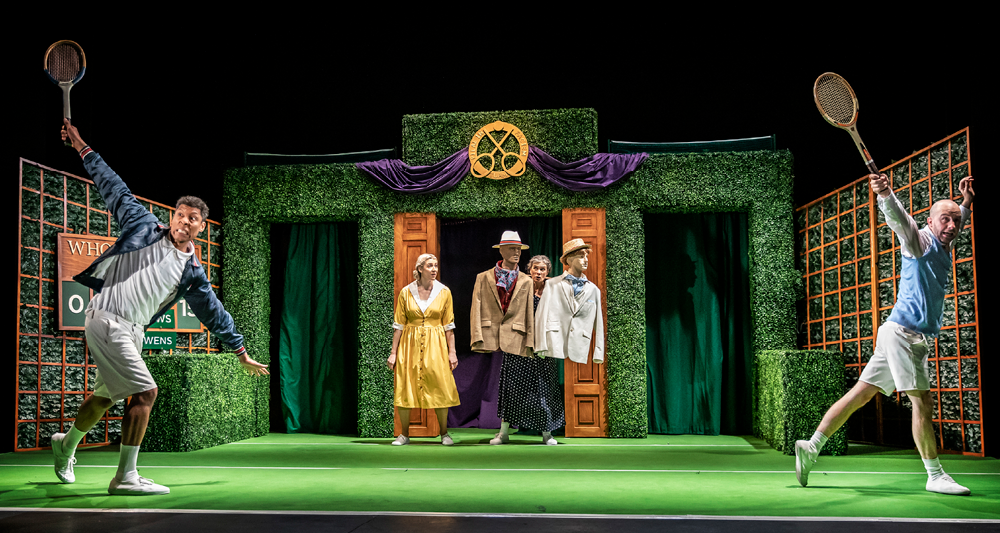 Do you have a favourite 'bit' of the show?
Katriona – I love the big reveal at the end of act 1.
Kirsty – Yeah that's a really good bit and the final tennis match is a lot of fun. Creating it on stage is quite a challenge and it' s a lovely moment when the whole crew is working together to create the scene. Which I really enjoy.
Emile – I have many favourite bits, moments. I really love playing Hugh as we're extreme opposites regarding his sense of proving himself and the one up-manship that comes with his insecurities.
Ben – Hmm… Hidden phones, missing letters on scoreboards, stairs, escalators and elevators. I told you it was silly! You'll have to come to see it to understand…
So, are any of you tennis fans , murder mystery fans or both? 
Ben –   I used to love the Agatha Christie type Murder mysteries as a younger boy and grew up watching and reading them! I love tennis – it's my second favourite sport after football and I follow Wimbledon and the big championships with a keen interest. I also play tennis fairly regularly with friends! (not that badly!)
Kirsty – I have always enjoyed watching tennis – it's one of the only sports I understand scoring wise! When I was at school I would to watch Wimbledon on the TV and then play go off to try and play tennis (badly)! I was able to go to Centre Court at Wimbledon recently – that was a great experience. I enjoy Murder mysteries, trying to work out whodunnit is always fun. Although over the years of performing in a lot of them I feel I should be better at working that out!
Emile – Nope, afraid not, but don't hold it against me – I love the show!
Katriona – I am now!
Finally, why do you think people should come and see Crimes on Centre Court?
Emile – It's a show I'm really proud of. It's energy packed with something for everyone whether you're a murder, mystery fan, a tennis fan, or a fan of the comedy and the company…
Kirsty – It's a show with a lot of heart and massive laughs and I promise that you won't fail to leave the theatre with a smile on your face!
Katriona – It really will be a great night out full of belly laughs, chaos and deviously delicious drama.
Ben – It's a great escape from the seriousness of everything that's going on in the world right now. Come and laugh for a couple of hours at some silly nonsense & take your mind off things! And see if you can solve the murder too…
Crimes on Centre Court is an ace of a show you're sure to (fifteen) love. You won't see it game set and matched anywhere else.
Tickets for the show can be found here: https://bit.ly/47D0y5N