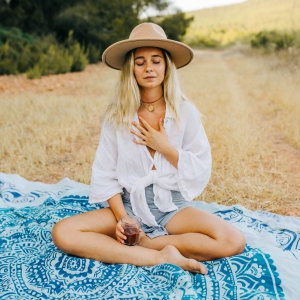 This Connect & Create Event is for 15 individuals on Saturday the 15th of July from 11AM-12PM. The intention for this event is to offer you an opportunity for self-reflection, awareness and creativity. Together, we'll let whatever surfaces be seen and heard without judgement. Everything here is welcome, your greatest fears, doubts and pain. It is when we connect with the challenging parts of being human, that we experience the greatest freedom in ourselves. In a 20-minute heart-opening guided meditation held by myself, we'll bring our awareness into our bodies, into our hearts and explore our thoughts and emotions with curiosity. Following the guided meditation, I'll open the space for 20 minutes of reflective journaling, where you'll have the opportunity to write down what you experienced during the meditation. I'll be there to support the individuals that feel they need direct 1-1 support and reflection. I'll also offer you some writing prompts and questions if you're struggling to know where to start. After our time together journaling, we'll come back together as a group and for the final 20-minutes where you'll have the opportunity to share what came up for us individually and identify the ways we can support one another.
The investment for this 1-hour event is £16, which will include everything indicated above. You can make the payment using this link: https://buy.stripe.com/8wM9E2bUz7tB5gc28L. If you have any questions, please don't hesitate to contact me directly on WA +34 651 726 568
You can also reserve your space by contacting emma@emmaevelyncampbell.com and pay via cash on the day.