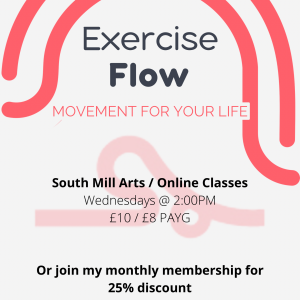 EXERCISE FLOW
WEDNESDAYS 2:00PM-3:00PM | £10 payg in studio | £8 payg online or join my monthly membership for 25% discount!
All bodyweight exercises in this class are great for beginners and older adults aged 40, 50, & 60+. It's a few short rounds of exercise to raise your heart rate which we then link in a flow!
Our Exercise Flow classes will get you moving more efficiently and with less pain!
For more information please visit: https://bodyworksstudio.co.uk/services/#functionalflow
Class information

Weds 2pm – 3pm
https://bodyworksstudio.co.uk/services/#functionalflow