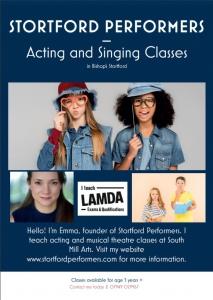 Group Classes
Classes consist of a combination of age appropriate and fun warm ups, speech/singing exercises, games, improvisation, and work on individuals' pieces – these could be poetry, prose, acting monologues or musical theatre songs.
Wednesdays (term time):
3.45pm – 4.45pm Drama class for 9 – 11 year olds
5pm – 6pm Drama class for 12 – 14 year olds
Thursdays (term time):
3.45pm – 4.30pm Drama class for 5 – 8 year olds
4.45pm – 5.30pm Music Theatre Choir 5 – 14 year olds
Drama classes will focus on learning content appropriate for LAMDA acting exams and speaking verse and prose exams.
Group classes take place in the Gilbey Room at South Mill Arts, 1 – 3 South Mill Road, Bishop's Stortford, CM23 3JG.
Private tuition available for all ages and advised for 14 years and over.
Wednesdays (term time):

3.45pm – 4.45pm Drama class for 9 – 11 year olds

5pm – 6pm Drama class for 12 – 14 year olds

Thursdays (term time):

3.45pm – 4.30pm Drama class for 5 – 8 year olds

4.45pm – 5.30pm Music Theatre Choir 5 – 14 year olds